Please fill out our membership application below and we will email you instructions and a link so your business/nonprofit organization can join 36,000+ VOB members!

Fields with a * are required.
*Please note: because setting up your business profile requires on average 3-5 minutes (detailed description, keywords and more), we recommend using your PC/laptop to complete the process. Your information is safe with us! We won't sell or share it!
To learn more about our Small Business Sponsorship and how it can benefit your business on VOB click here.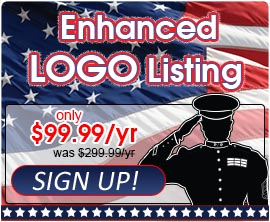 To learn more about our Enhanced Logo Listing and how it can benefit your business on VOB click here.
Scroll down to see more about our free basic listing.
Small Business Sponsor
Enhanced Logo Listing
FREE Basic Listing

VOB Small Business Sponsor

Your listing will appear randomly as our Sponsor Spotlight throughout the directory on over 300,000 pages for 1,000s of our daily visitors to potentially see and click on.
YES
NO
NO

Call To Action Special Offer

Include a Special Offer in your listing, this can be a coupon, sale, product spotlight or anything else. Special offers are currently being seen on

1,000s of VOB's pages

. As well as exclusively in our Military/Veteran Discount Coupon Directory
YES
NO
NO

Category Listings

Listing your business under more categories increases your exposure. Get one (1) additional category listing when you link your website to VOB.
5
5

2

NAICS Codes Directory

Add your business' NAICS Codes so government purchasers and contractors can find you in our exclusive NAICS Codes Directory and NAICS Codes Search Engine. Enhanced listing show above basic profiles and include your logo. Number (to the right) shows how many codes are alloted to each membership level.
10
5

2

Logo or Military Seal

Adding a logo to your listing makes it more noticeable and increases brand awareness. It's also 87% more likely to be clicked! Don't have a logo readily available? We will set you up with your military branch seal as a placeholder. You can easily submit your logo at a later date.

YES
YES
NO

Instant Exposure

Our blog is viewed by thousands of visitors each week. We will add a post to our blog announcing the addition of your company to the directory which will include your company's description.

YES
YES

NO

Priority Listing Location

Higher priority listings show up first in the directory (including your state, city, county, categories and NAICS Codes) and any relevant search that shows your business.
Priority


[Lvl 3]

Priority


[Lvl 2]

Standard


[Lvl 1]

Listing Priority

How long before my listing is added and my business and contact information can be seen by the VOB Directory's 1,000s of visitors?

Usually Goes Live same day

Usually Goes Live same day

Live in a few days
Adding a website link will speed this up!

Business Description

Advanced listings give you more space to talk about your business and your products and services.

1500


Characters

500


Characters

250


Characters

Sponsorship Recognition

Your business will be listed on our Search Engine Optimized sponsorship page as extra recognition.
Yes
Yes
No

Proud Member Badge

Show the world you are a proud veteran-owned business and get added exposure at the same time by adding one of our "We are a Veteran Owned Business" banners to your email, collateral and website. Small Business Sponsors get a custom badge just for your business!

No Charge

No Charge

No Charge

Business profile comes with other extra benefial perks and items including your business' Certificate of Membership (QR code links directly to your VOB profile), bumper stickers, window stickers and more.




Includes Full VOB Member Package including Member Stickers




Proud Member Stickers

NONE
Exclusive Coupon Directory:
Your special offer shows for 1 full year in our Military/Veteran Discount Coupon Directory and Coupon Directory by State giving more opportunities to be seen. It also helps your site's SEO by offering even more links to your site.
Yes
No
No
Top Level Category Listing:
Because of the demand of nearly 30,000 member profiles, we've now reserved our top level categories (TLC) solely for VOB Small Business Member Sponsors. Here's a sample of some of our TLCs Business Services, Commercial Contracting, Health and Medical, Construction, Government and Military, Stores, Dealers and Products... or click here to see all top level categories. (category selection is based on editorial review)
Yes
No
No

Social Media Exposure

With a supporter network of nearly 300,000, we have a unique opportunity to help promote members through posts and tweets. Check out our reach on Facebook and Twitter. Small Business Sponsors and Enhanced listings will get a mention!

Shared

Shared

No

Increased Profile Views
Shows average increased profile views over a free listing. Check out this sample list of businesses, organizations and government agencies who have used VOB?
8+ Times
More Traffic
3 Times
More Traffic

Supporter Fee

*2023 Small Business Special:




(limited time only)

To pay by check make payable to Veteran Owned Business & send to:

Veteran Owned Business

Corporate Headquarters

1103 W. Hibiscus Blvd., Ste 301A

Melbourne, Florida 32901

$649.99/year
*$299.99/year
Goes live typically within 24 hours (once verified)

$299.99/year




*$99.99/year




Goes live typically within 24 hours (once verified)

FREE


Live within a few days (once verified)

Small Business
Sponsorship

Sign Up
Enhanced
Logo Listing

Sign Up
FREE
Basic Listing

Sign Up

Enhanced listings help keep VOB growing? Servers, stickers, certificates, bloggers, articles, PTSD Book donations and more... it all takes money. The support we receive from small business sponsors allows us to continue to grow and reach out to more and more veterans, active duty military and their respective families! In short: our ability to reach out and help the military community is directly attributed to you and your business!

Question? Email us or call us
toll free at: (877) 862-5478 - view our FAQ Page

*All financial information is entered into Paypal. Veteran Owned Business does not acquire that information (aka no information is stored with us)!